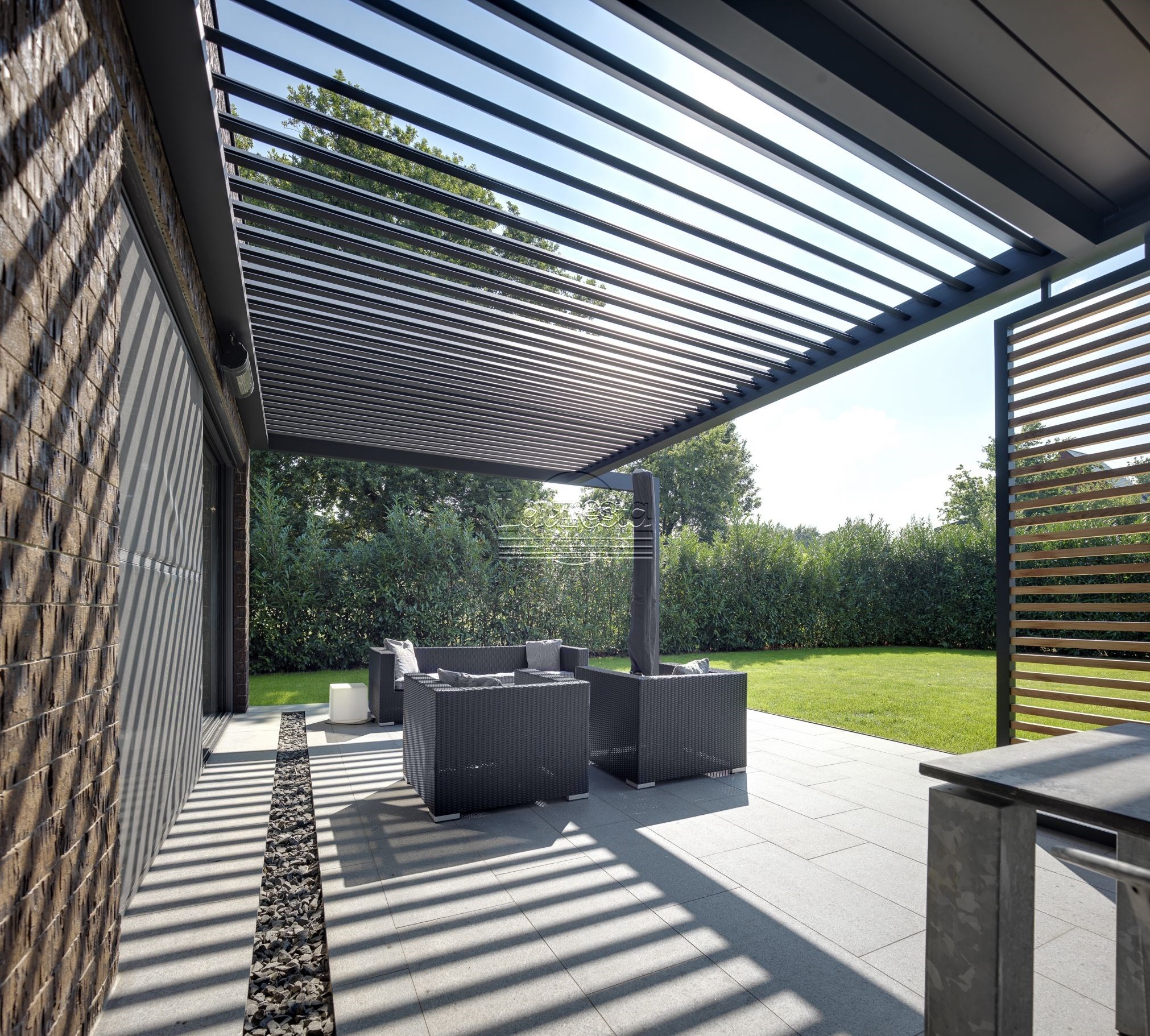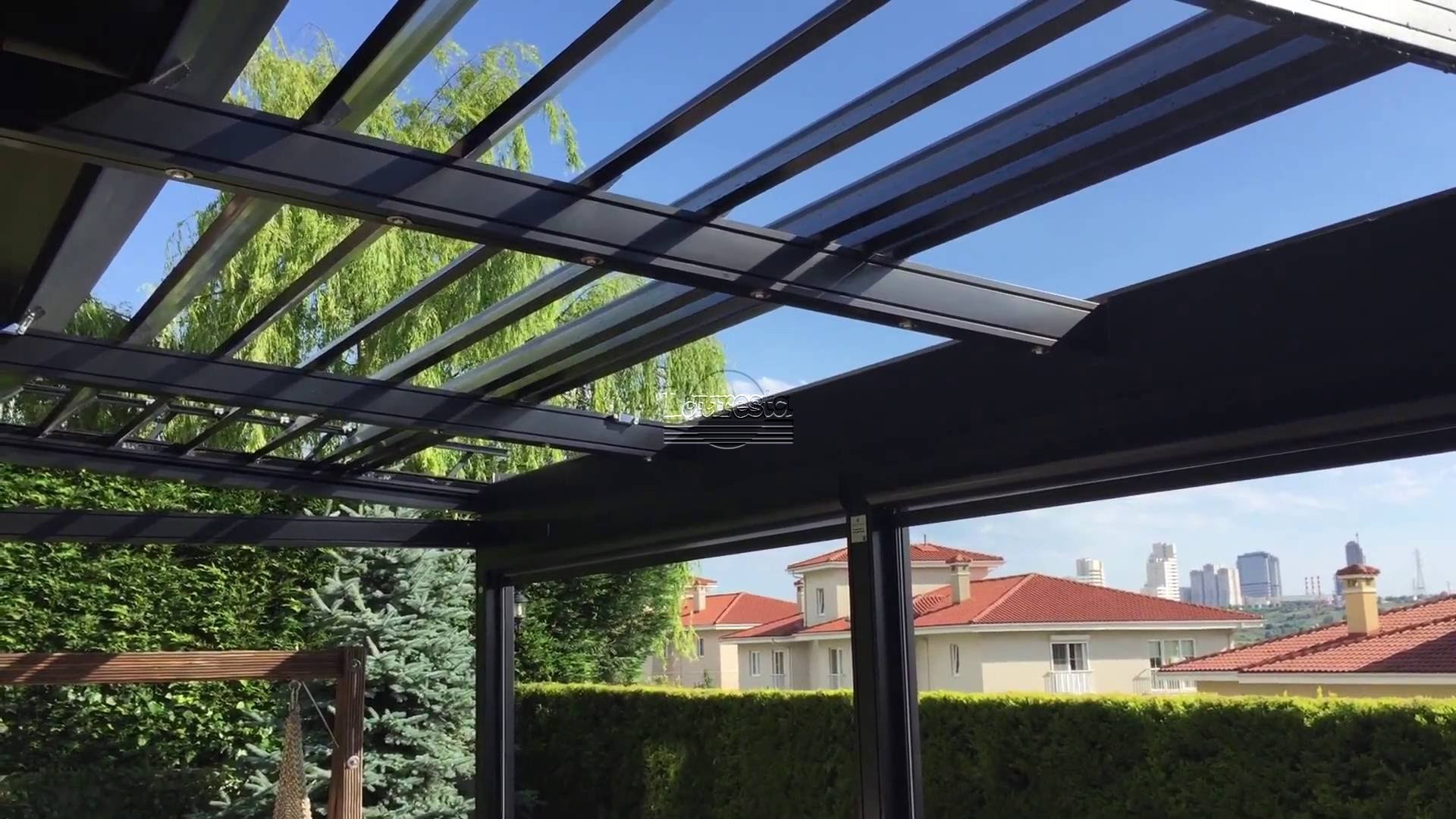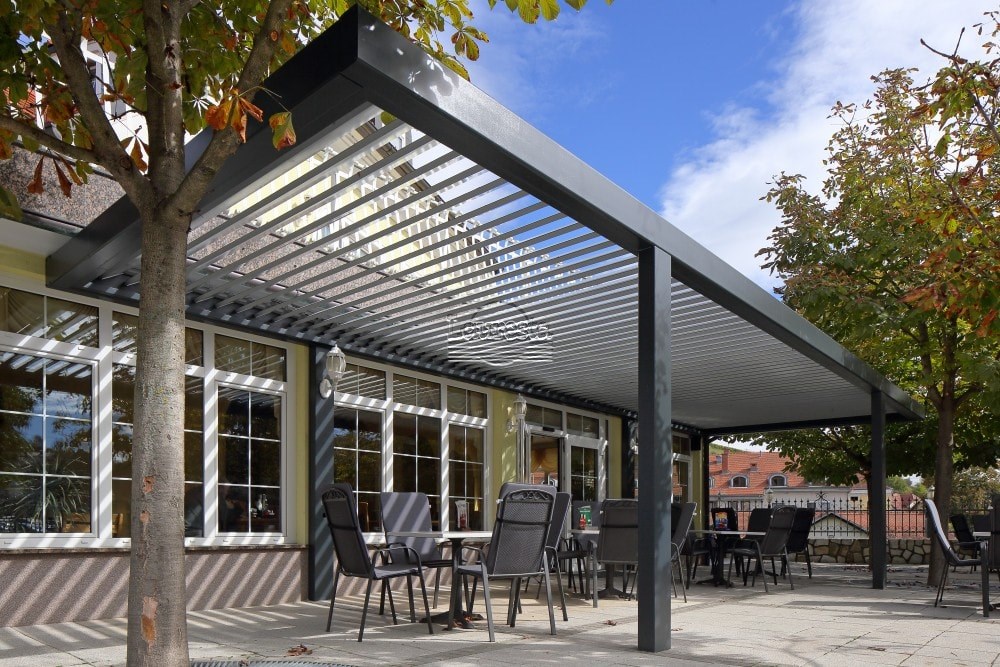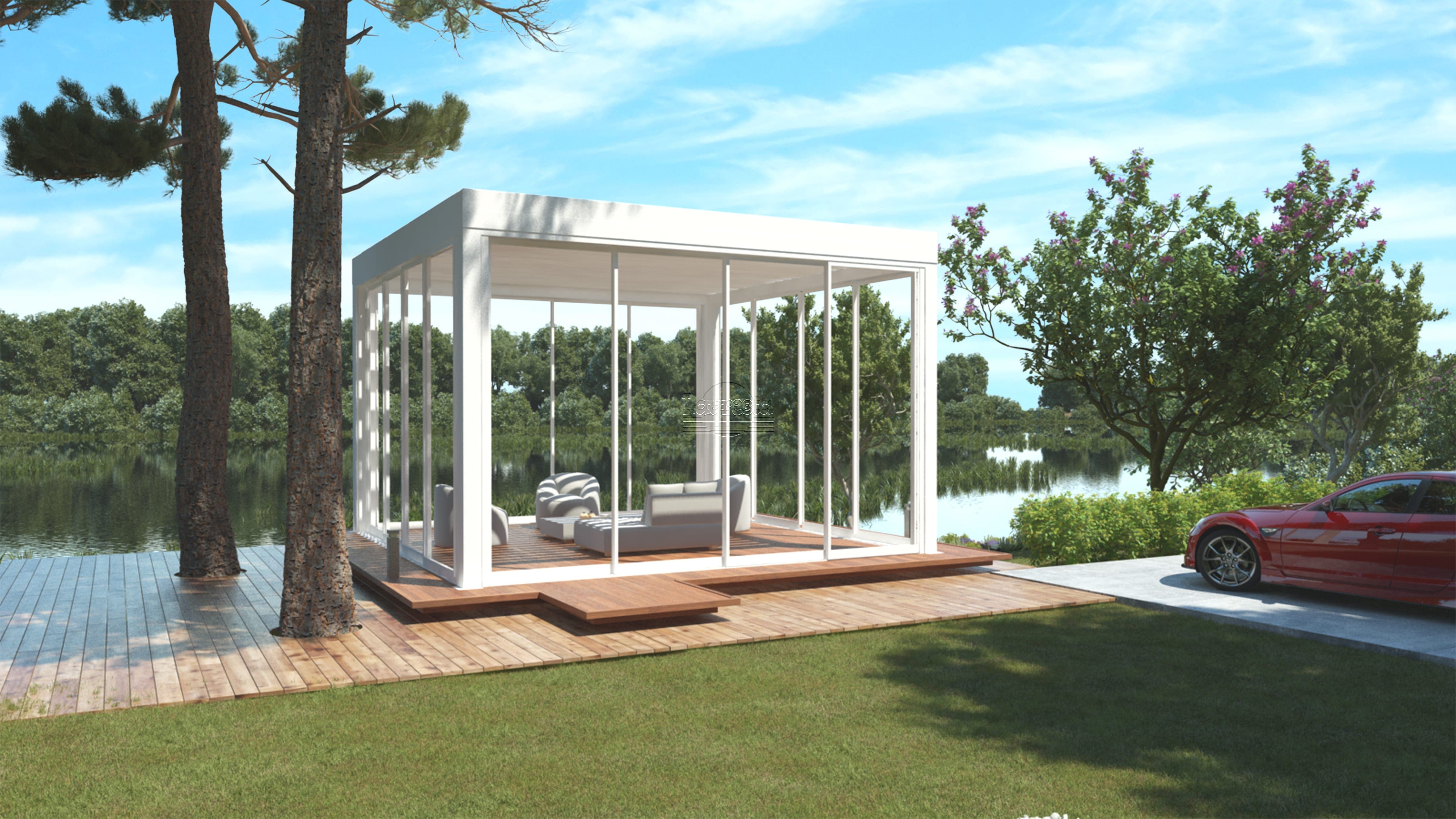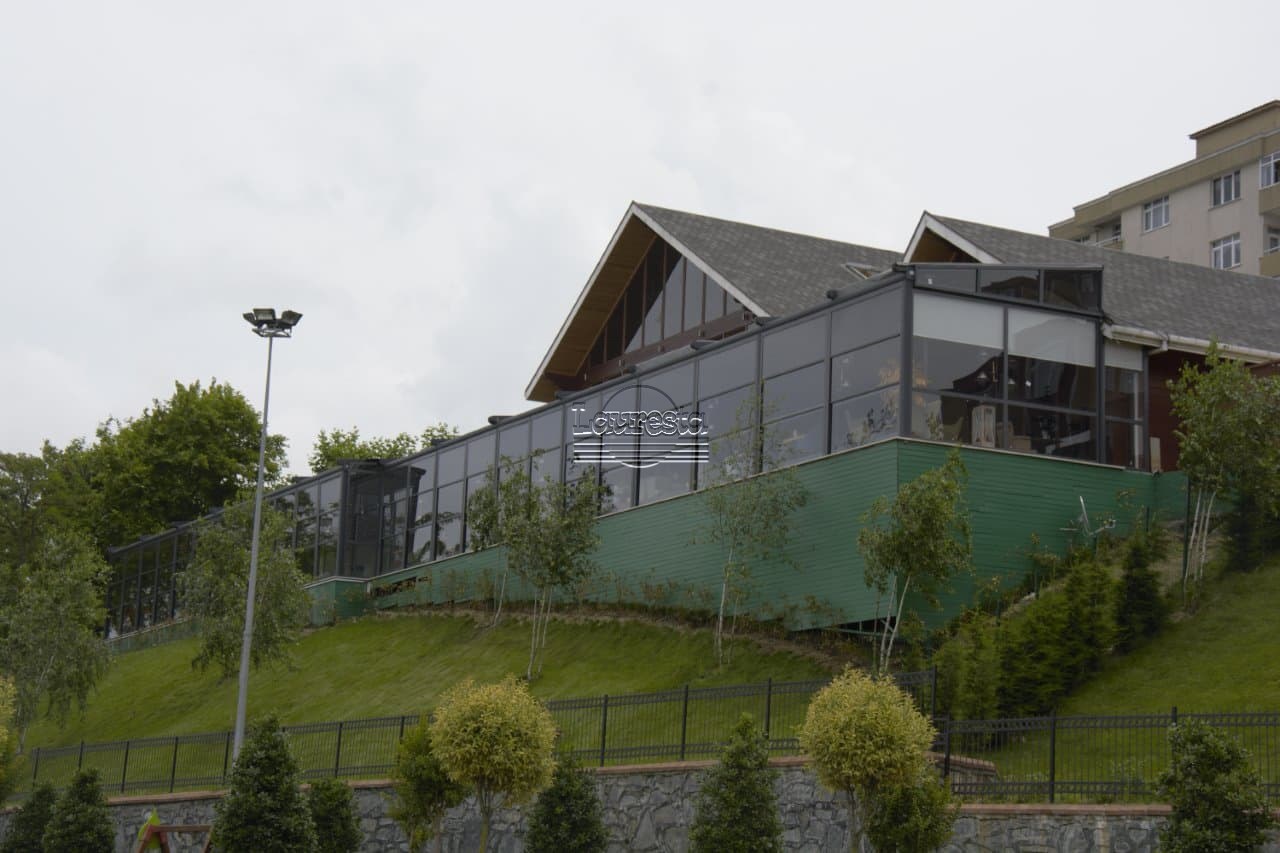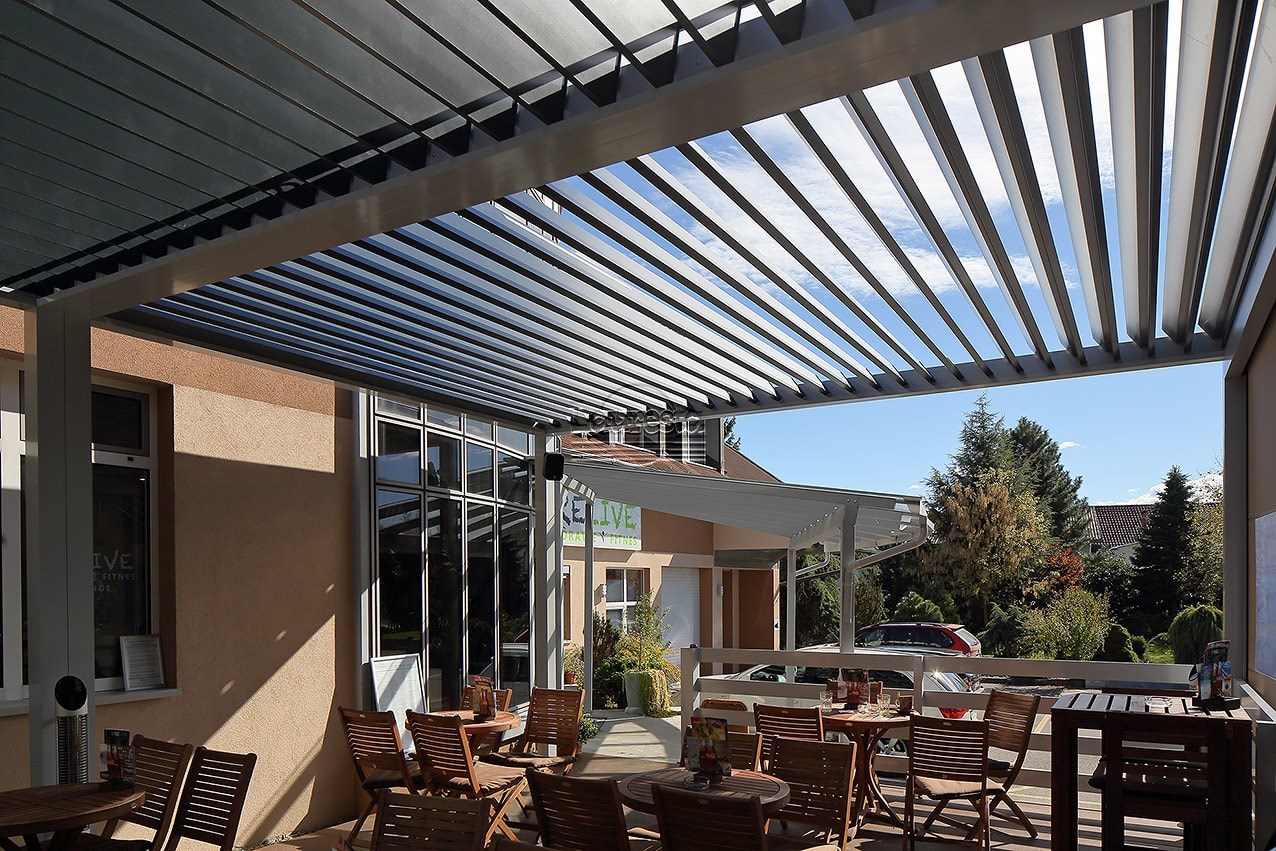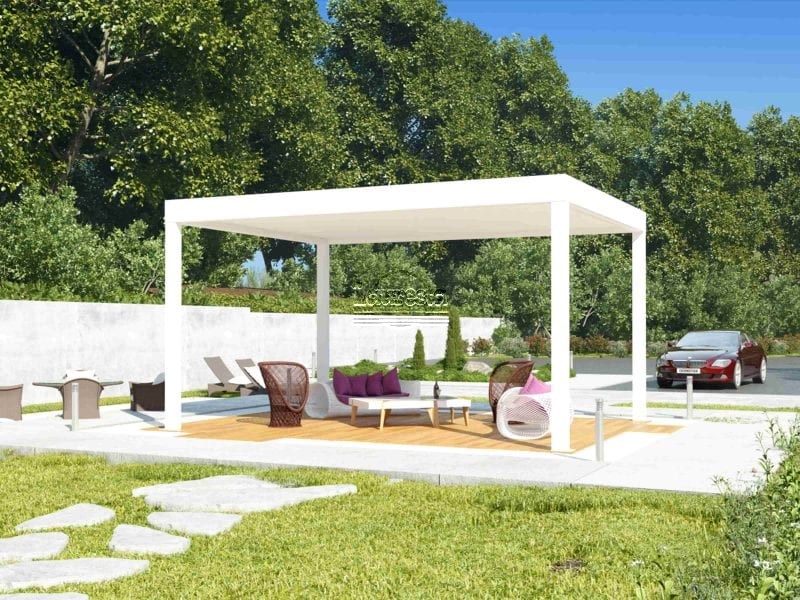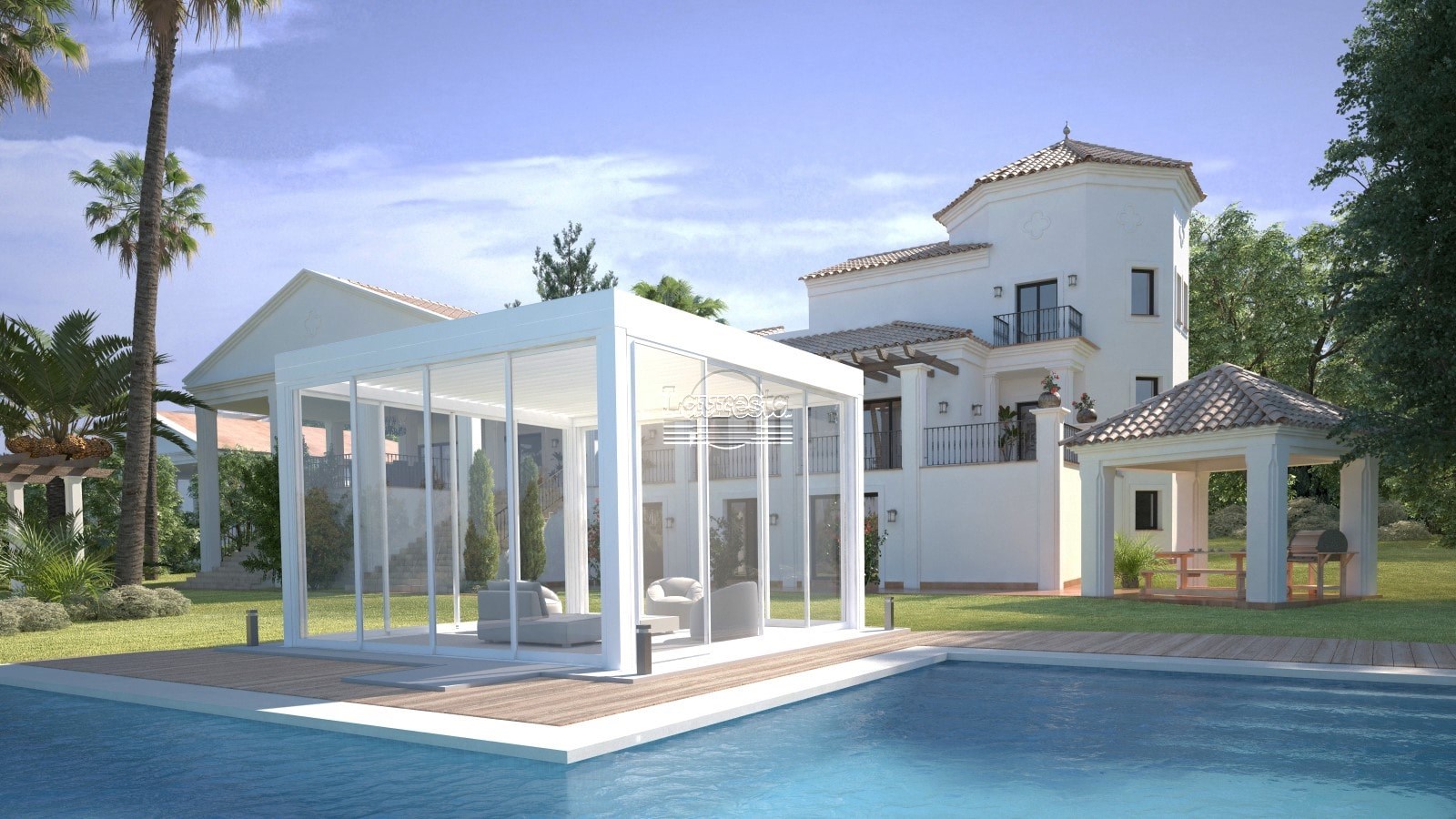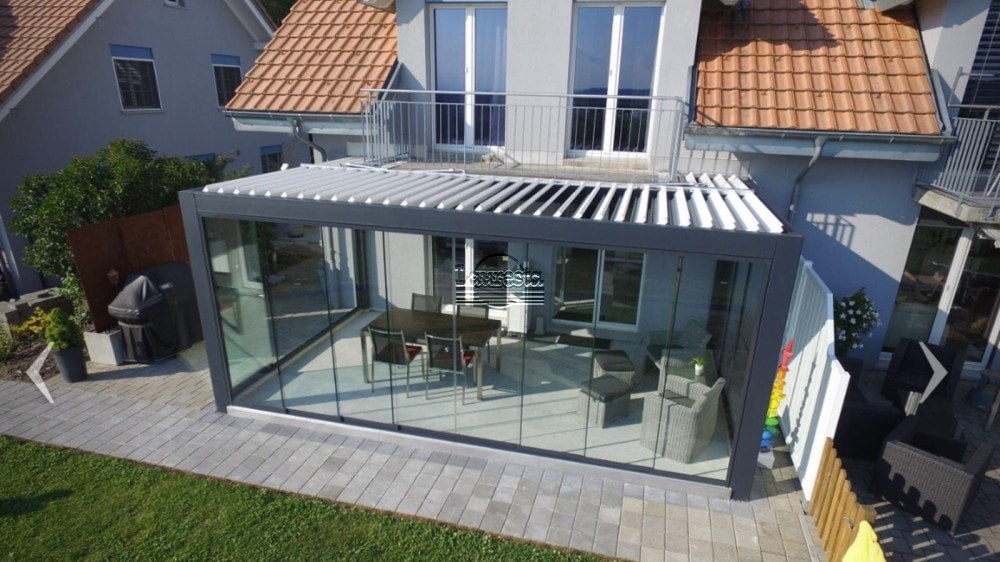 Climatic pergola is a modern

weather-resistant pergola

made of an aluminum construction with a louvered roof that can be slightly opened or closed. The ease of use, design and the latest technical solutions of the Climatic pergola create an ideal combination of functionality and style.
The ability to open the lamellae of the roof (tilt them to the desired angle) during the summer months gives this type of pergola a huge advantage over pergolas with more simplified roof systems. A slightly opened louvered roof allows the fresh air in, lets it circulate naturally and protects your terrace from direct sun rays, allowing you to comfortably spend time outdoors even on the hottest days of the year.
During the colder months, slightly opening the slats of the Climatic pergola will let in just the right amount of natural sunlight for your enjoyment.
Integrated lighting system creates a pleasant atmosphere
Sunlight and air flows can be easily regulated by tilting the slats
2 adjustable roof positions: closed, slightly open
Climatic pergola roof systems consist of mobile lamellae that control air circulation and amount of light entering the pergola. The slats can be opened and closed to the desired angle depending on the movement of sun throughout the day. These are the most commonly used positions:
Roof slightly open - shade
Roof open - maximum sunlight
Biopergola Climatic - technical specifications
• Single pergola module dimensions: width: 200-450 cm, depth: 100-600 cm, height: 200-300 cm
• Dimensions of two modules: width: 450-800 cm, depth: 100-550 cm, height: 200-275 cm
• Dimensions of four modules: width: 450-800 cm, depth: 550-1000 cm, height: 200-250 cm
• Dimensions of aluminum profiles used in the construction: 13x13 cm; 22x14 cm
• A tubular 2.5 rpm engine is used for the roof slat system which allows the roof to be opened in 9 seconds. When the roof is fully open, the roof lamellae protrude above the roof construction by 2 cm.
• The number of engines to operate the roof depends on the size of the planned pergola - one engine is usually enough for a 3.5x4 m Climatic pergola
• The converter for LED lighting and window control is fully weather-resistant: it is waterproof (IP67) and heat / cold resistant(-30 ° C to 70 ° C)
• High-quality rubber-lined gaskets to protect the structure from precipitation and drafts
• All pergola bolts and nuts are made of stainless steel. This ensures robustness and durability of the construction.
• Aerolux bioclimatic pergola is resistant to strong winds of up to 117km / h (level 11 on Beaufort scale)
• Wide selection of RAL shades - we will paint the aluminum structure in the color of your choice. These are the most popular RAL colors:
Not sure what type of pergola you should choose? Send us an

inquiry

or call

+3706 40 12345

for a private consultation!
Advantages of a biopergola
Maximized outdoor space
---
Pergola with side panels and glass systems ensure complete protection from the bad weather conditions
Optimal comfort
---
Smartphone or remote control operated pergola roof, wall covers, lighting and heating
Ventilation and temperature control
---
Retractable roof and rotating slats shield from direct sunlight while enabling natural circulation of air
2 year warranty
---
We offer a 2 year warranty for the pergola construction, fabric and automation systems
Modern appeal and innovation
---
Smart sun, wind and rain sensors as well as roof and window automation uses advanced technology and innovation
More time outside
---
Extend the outdoor season from early rays of spring to late autumn with patio heaters